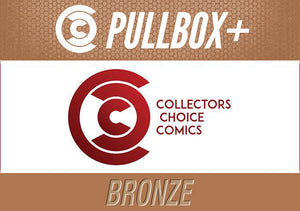 Welcome to Pullbox+

The following items are included with your bi-annual membership:

(effective 1/1/23)

6x CBCS BLUE LABEL GRADED BOOK SUBMISSIONS FOR THE PRICE OF 5 ($40+ savings)*
*Books for grading submissions must be New/Modern (1975 to present) - no signatures, pressing, or express grading offered, sorry!
PLUS!
+ 20% OFF COUPON CODE to use on the CCC website! 
(single-use per month, does not apply to FOC orders, or upcoming signing packages)
• NEW!

 $5 OFF ANY EXPRESS GRADING SUBMISSIONS (no limit)
(Cuts turnaround time on any book down to 2-3 months)
+ $5 OFF 2 Witnessed Signature Fees
(per month)
• EXTRA 5% OFF COVER PRICE of new books each week!

+ ACCESS to our private Facebook Group 
where we post early access to variants, exclusives, bundle deals, upcoming signings, and new book announcements - before we post them anywhere else!

ALL FOR THE PRICE OF 5 MONTHS OF PULLBOX+. (GET 1 MONTH FREE! - a $40+ VALUE!)

Everything mentioned above is in ADDITION to our FREE 'PullboxLite' program which includes:

Up to 20% OFF COVER PRICE of new books each week!
FREE bags & boards!
Easy online ordering for MARVEL & DC titles directly from our website! 
FREE screening for damages (NM- or better).
Titles guaranteed (when ordered prior to Final Order Cutoff (FOC) deadline.
No minimums. No fees.
Convenient Local Pickup at our Tempe, AZ shop location.
Discounted/Combined Shipping for non-local collectors.